In the sumptuos spaces of Don Carlos Restaurant at Grand Hotel et De Milan, Max Kibardin showed his new fairy and elegant Fall Winter 2014 2015 collection, after two seasons in New York.
Siberian, ex-model, after studying at Marangoni, he worked for Furla, Reem Acra, Ralph Rucci and Pollini, in 2004 Max launched his own shoes line and in 2011 he became the new creative director of Bruno Magli.
The new collection of shoes is a triumph of velvet, precious details and flowers, in perfect Russian romance style and nonchalant luxury. High heels with a delicate fur cuff at the ankle and some stylised flowers seem to twirl and to lay down of the shoes like light butterflies. The bags, with an elegance that came from the past, have defined shapes with an allure of eternity.
A collection that found its roots in a silent but creative elegance that will last forever.
Bisous
yours Carolyne O'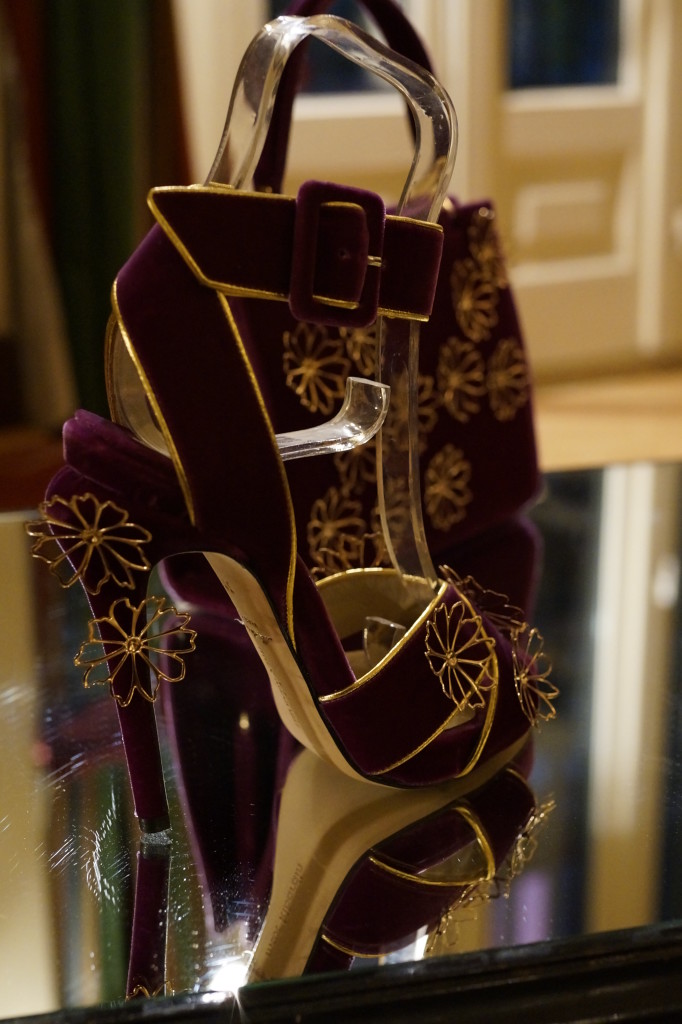 Nei sontuosi spazi del ristorante Don Carlos presso il Grand Hotel et De Milan, Max Kibardin ha portato in scena la sua nuova collezione Autunno Inverno 2015/2015, dopo due anni di presentazioni a New York City.
Siberiano, ex-modello, dopo gli studi all'Istituto Marangoni, collabora con famosi nomi del fashion system come Furla, Reem Acra, Ralph Rucci e Pollini, nel 2004 lancia la sua propria linea di calzature mentre nel 2011 diventa il direttore creativo della Maison Bruno Magli.
La nuova collezione di scarpe è un trionfo di velluto, dettagli preziosi e fiori, in perfetto stile romanzo russo e lusso nonchalant. Tacchi altissimi con un delicato cinturino di pelliccia alla caviglia e fiori stilizzati che sembrano volteggiare e adagiarsi sulla scarpa come leggere farfalle. Le borse, di un'eleganza che sembra provenire dal passato, hanno forme definite con un'allure di eternità.
Una collezione che affonda le sue radice in una eleganza silenziosa ma creativa che è destinata a durare per sempre.
Bisous
la vostra Carolyne O'