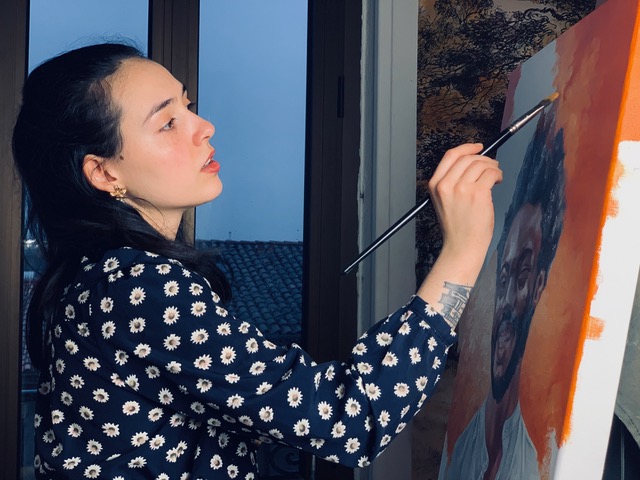 The world without art would be a flattened electrocardiogram. The art world gives voice to emotions without needing a canonical and predefined language … it is open to the free interpretation of those who know how to read its language.
Art has several facets expressed by various talented artists. Currently I am so much focused on the upcoming ones and this why today I wanna introduce you to Juliane Blasquez.
Juliane is a French painter who, with her pieces, is able to bring you to another magic dimension. She is an artist at 360° and she also creates paintings and portraits on demand, you can contact her directly for any infos through Instagram https://www.instagram.com/julianeblasquez/ or on her website https://www.blasquezjuliane.com/shop
Juliane is a really inspiring and talented woman so I am very happy to share this interview we made together.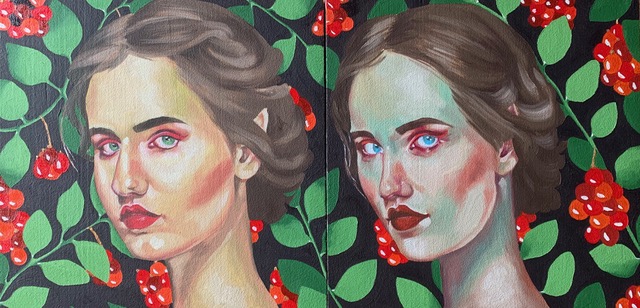 1) Your artistic vision is so unique and one of a kind. Was there a particular moment when your passion for art wanted to become something more? When did you decide to turn it into a job?

Thanks Carolina. I wouldn't say there was a particular defining moment. It's a global awareness, on the one hand, because I realized, during my artistic evolution, that it was impossible for me to live outside the world of my creations. On the other hand, I allowed myself to breathe and live by agreeing to be happy by practicing this wonderful job full time. We all know that life is too short to miss the point.

2) What is art for you? What does it represent for you?
Art is my main driver in life. He was very helpful when I needed it most. I revealed myself in this practice. No matter which path I took, she always followed me. Until I accepted it and I accepted myself as well. Thanks to art, we escape, we allow ourselves to dream, we question ourselves, we often accept the sadness of our world more easily.

3) From what do you draw your inspirations in life as in the creation of a work of art?
Most often, it is nature that inspires me. She's so beautiful when you take the time to watch her. Come afterwards, my eternal reveries on the creation of this one. My insatiable appetite for the author J.R.R Tolkien, whose great spirit and his magnificent works I admire. The great Pre-Raphaelite painters, symbolists, who stand out so much in my eyes. And finally, my search for "truth". My desire to share, to create a magical and wonderful world that makes me dream so much.

4) Are there specific messages that you would like to convey to people through your art and paintings?
There is one that is particularly close to heart, that of protecting nature and animals. I often express it through my stories, like "Guardians of the divine fruit" for example, or "The Lady with the Birds". The second message, important to me, is to keep our child's soul. Let us not lose sight of the elves, the fairies, and all the magical creatures: allow us to dream!

5) What are the three characteristics that most define your art?
Dreamer, Magic and Symbolic.

6) I think that thanks to art, we can make our soul and our thoughts completely naked. How much have you laid bare for your work?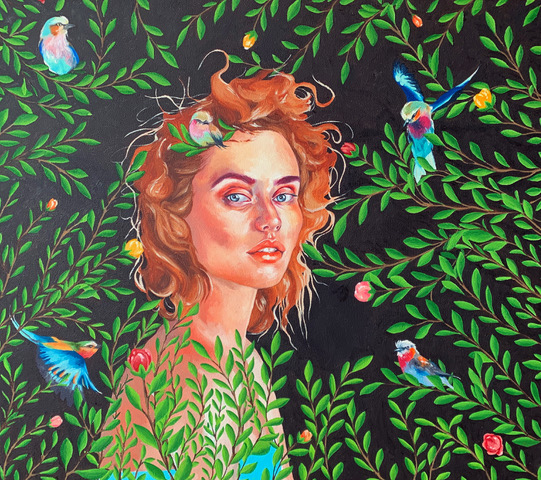 That's exactly it, part of us attaches to the painting we create. When I paint, there are only my characters and me, so I think that I reveal to them the whole of my being so I would answer you: many parts are exposed and transmitted in my portraits.

7) Are there any particular challenges you face as an artist?
To be an artist is to hold multiple hats: the road is long and winding. You have to be several trades in one and yet always bring that magic touch which makes that, born a work of art.

8) This particular moment that we are living in will undoubtedly change the approach to events and interactions between people. How do you see the future of art due to the global pandemic?
Art has not said its last word, I think that we still have a lot to explore, in particular the place of art on the Internet which remains so badly exploited.

9) Some galleries are experimenting with digital and interactive exhibitions. What is your personal opinion about them?
As a passionate fan, I am satisfied with this solution, while we await the return to the old concept of exhibition, but I am more than curious to understand the vision of an artist and what could be its advantages and its disadvantages. This offers certain advantages, of course, such as their influence and accessibility in this crisis. But a work must be lived, looked at, really felt. The moment when we find ourselves facing it causes so much in us that it is a shame to place a machine at the heart of this sensation.

10) Are there any plans for this year or early 2021 that you can tell us?
I am currently working on a literary project accompanying my works. This is a manuscript that is particularly close to my heart: the invention of my wonderful world.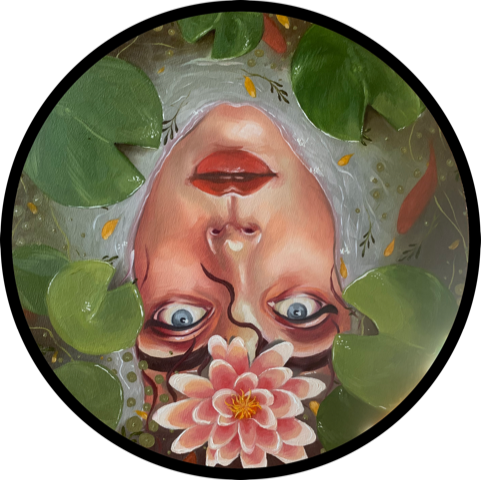 French Version
1) Votre vision artistique est si unique et unique en son genre. Y a-t-il eu un moment particulier où votre passion pour l'art a voulu devenir quelque chose de plus ? Quand avez-vous décidé de le transformer en emploi ?
Merci Carolina.
Je ne dirais pas qu'il y a eu un moment décisif, particulier. C'est une prise de conscience globale, d'une part, car je me suis rendu compte, au fil de mon évolution artistique qu'il m'était impossible de vivre hors du monde de mes créations.
Et d'une autre part, je me suis autorisée à respirer et vivre en acceptant d'être heureuse en pratiquant à plein temps ce métier si merveilleux.
On sait tous que la vie est trop courte pour passer à côté de l'essentiel.
2) Qu'est-ce que l'art pour toi ? Que représente pour toi ?
L'art est mon principal moteur dans la vie. Il m'a été d'un grand secours lorsque j'en ai eu le plus besoin. Je me suis révélée dans cette pratique. Qu'importe le chemin que je prenais, elle me suivait toujours. Jusqu'au moment où je l'ai acceptée et je me suis acceptée également.
Grâce à l'art, on s'évade, on se permet de rêver, on se remet en question, on accepte, souvent, plus facilement les tristesses de notre monde.
3) De quoi puises-tu tes inspirations dans la vie comme dans la création d'une œuvre d'art ?
Le plus souvent, c'est la nature qui m'inspire. Elle est si belle lorsque l'onprendletempsdela regarder.
Viens par la suite, mes éternelles rêveries sur la création de celle-ci.
Mon insatiable appétit pour l'auteur J.R.R Tolkien dont j'admire la grandeur d'esprit et ses œuvres grandioses.
Les grands peintres préraphaélites, symbolistes, qui se démarquent tellement à mes yeux.
Et enfin, ma recherche de « vérité ». Mon désir de partager, de créer un monde magique et merveilleux qui me fait tant rêver.
4) Y a-t-il des messages particuliers que vous aimeriez transmettre aux gens à travers votre art et vos peintures ?
Il y a une qui me tient particulièrement à cœur, celle de protéger la nature et les animaux.
Je l'exprime souvent aux travers de mes histoires, comme « Les Gardiennes du fruit divin » par exemple, ou « La Dame aux Oiseaux ».
Le second message, important à mes yeux est de conserver notre âme d'enfant.
Ne perdons pas de vue, les elfes, les fées, et toutes les créatures magiques : autorisons- nous à rêver !
5) Quelles sont les trois caractéristiques qui définissent le plus votre art ?
Rêveur, Magique et Symbolique.
6) Je pense que grâce à l'art, nous pouvons rendre notre âme et nos pensées complètement nues. Combien avez-vous mis à nu pour votre travail ?
C'est exactement cela, une partie de nous- même s'attache à la peinture que l'on crée. Lorsque je peins, il n'y a que mes personnages et moi, je pense donc que je leur dévoile l'entièreté de mon être alors je te répondrais : beaucoup de parties sont mises à nues et transmises dans mes portraits.
7) Y a-t-il des défis particuliers auxquels vous êtes confronté en tant qu'artiste ?
Être artiste, c'est détenir de multiples casquettes : le chemin est long et sinueux. Il faut être plusieurs métiers en un seul et pourtant toujours apporter cette touche magique qui fait que, née une œuvre d'art.
8) Ce moment particulier que nous vivons changera à coup sûr l'approche des événements et des interactions entre les gens. Comment envisagez-vous l'avenir de l'art en raison de la pandémie mondiale ?
L'art n'a pas dit son dernier mot, je pense qu'il nous reste beaucoup à explorer notamment la place de l'art sur l'Internet qui reste si mal exploitée.
9) Certaines galeries expérimentent des expositions numériques et interactives. Quelle est votre opinion personnelle à leur sujet ? En tant que fan passionné, je suis satisfait de cette solution, alors que nous attendons le retour à l'ancien concept d'exposition, mais je suis plus que curieux de comprendre la vision d'un artiste et quels pourraient être ses avantages et ses inconvénients.
Cela offre certains avantages bien sûr comme leur influence et leur accessibilité dans cette crise. Mais une œuvre doit se vivre, se regarder, se ressentir réellement. Le moment où l'on se retrouve face à elle provoque tellement en nous-même qu'il est dommage de placer une machine au cœur de cette sensation.
10) Y a-t-il des projets pour cette année ou début 2021 que vous pouvez nous dire ?
Je travaille actuellement sur un projet littéraireaccompagnant mes œuvres. C'est un manuscrit qui me tient particulièrement à cœur : l'invention de mon monde merveilleux.
Carolina