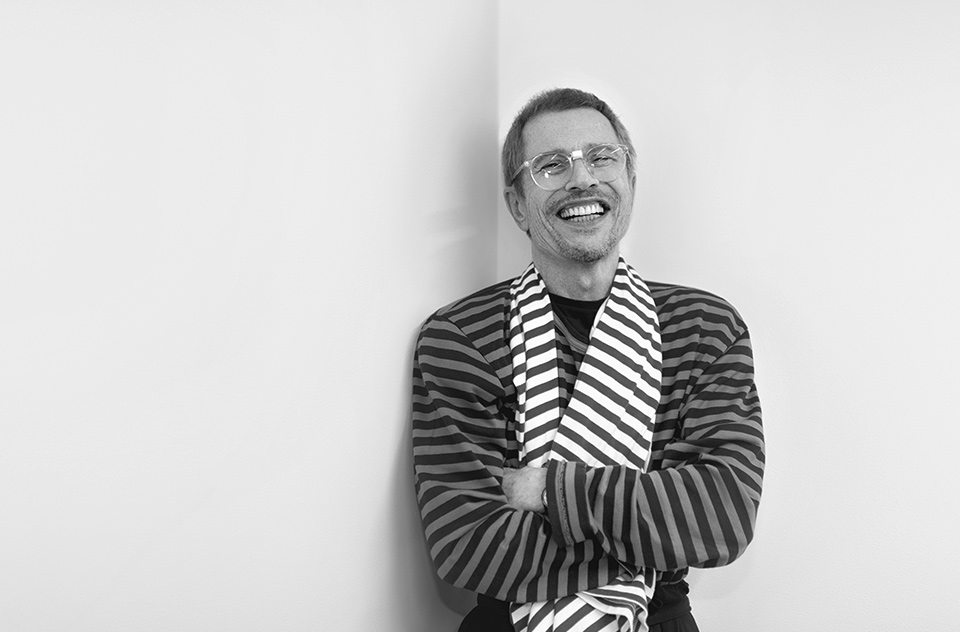 Desigual is the renowned Spanish brand that everybody loves for its playful and energetic attitude.
This year the wind of change has hitten the label that, surprising all the fashion system, has named Jean-Paul Goude as creative director. But this won't be the only task of the histrionic Goude, he will take care of every perspective of Desigual, from productions creation to events and marketing activities.
Jean-Paul Goude is a French illustrator and director. He was also the artistic director of Esquire New York in the 70s and he was worked for several famous labels such as Perrier, Citroën, Kodak, Chanel and Shiseido.
The first collection signed by Jean-Paul Goude for the Spring/Summer 2018 was presented during New York Fashion Week .
The catwalk marked a big turning point for the Desigual, that is restylling its image, but the fans of the label were not disappointed about it has the pieces presented continued to mantain the features that makes Desigual famous around the globe… Unconventionality, genuineness and positivity!
As David Meire, operational director of Desigual, said " The artistic collaboration with Jean-Paul Goude represents a step forward in Desigual's will to allow talents of countless disciplines to contribute and enrich the diversity of the brand thanks to their amazing works"
My personal thoughts about the collection is that I see a more mature Desigual, a Desigual that is reaching another dimension. Inspired by the jungle, every print overlaps the other in an harmonious and carefree dance. Fluid and stratified shapes are amalgamated on raffia, cotton, leather and denim. The multicolor sneakers and the raffia anklet become a must to have for the next season.
I will definetely continue to follow Desigual and Jean-Paul Goude in their new successful path.
Carolina
Desigual è il rinomato marchio spagnolo che tutti amano per la sua attitudine giocosa ed energica.
Quest'anno il vento del cambiamento ha colpito il brand che, sorprendendo tutto il fashion system, ha nominato Jean-Paul Goude come direttore creativo. Questo tuttavia non sarà l'unico compito dell'istrionico Goude, che infatti si occuperà di Desigual sotto svariati aspetti, dalla produzione creazitiva agli eventi e alle attività di marketing.
Jean-Paul Goude è un illustratore e regista francese. E' stato anche direttore artistico di Esquire New York negli anni '70 e ha lavorato per numerosi brands famosi come Perrier, Citroën, Kodak, Chanel e Shiseido.
La prima collezione firmata da Jean-Paul Goude per la primavera / estate 2018 è stata presentata durante la Settimana della moda di New York.
La sfilata ha segnato un grande punto di svolta per Desigual, che sta attuando un restyling della propria immagine, ma i fan della label non sono rimasti delusi per i pezzi presentati che hanno continuato a mantenere le caratteristiche che hanno reso Desigual famoso in tutto il mondo … Anticonvenzionalità, genuinità e positività!
Come ha dichiarato David Meire, direttore operativo di Desigua: "La collaborazione artistica con Jean-Paul Goude rappresenta un passo avanti nella volontà di Desigual di consentire ai talenti di innumerevoli discipline di contribuire e arricchire la diversità del marchio grazie alle loro opere straordinarie"
I miei pensieri personali sulla collezione sono che vedo un Desigual più maturo, un Desigual che sta raggiungendo un'altra dimensione. Ispirata alla giungla, ogni stampa si sovrappone all'altra in una danza armoniosa e spensierata. Le forme fluide e stratificate sono amalgamate su rafia, cotone, pelle e denim. Le scarpe da ginnastica multicolor e le cavigliere in rafia diventano un must da avere per la prossima stagione.
Continuerò sicuramente a seguire Desigual e Jean-Paul Goude nel loro nuovo percorso di successo.
Carolina