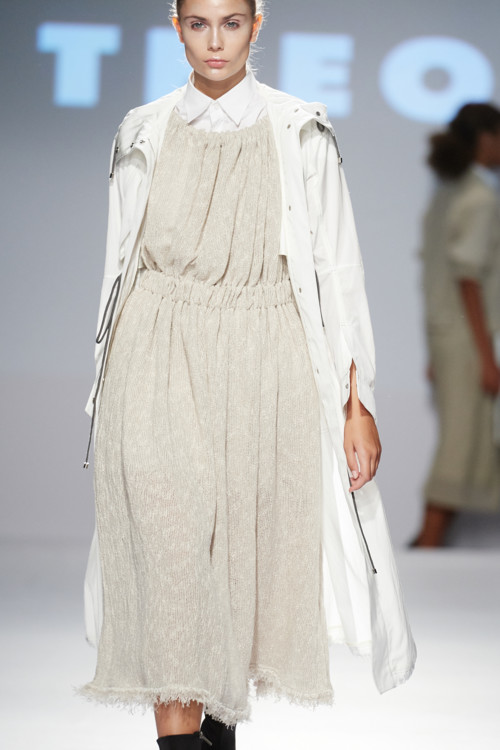 Is Kiev the new capital city of fashion?
The 15th edition of Mercedes-Benz Fashion Days Kiev takes the answer with it as the city finds its place on the international scene, proposing itself as the most interesting reality of emerging fashion talents.
For this new season the founder and creative director Daria Shapovalova marks another big success in terms of creating an exceptional event, aspired by renowned names of Ukranian fashion but also new designers.
I watched some shows and I have carefully selected for you some of the names that are ready to become the big ones of the future.
THEO.
Simplicity, sophistication with a touch of Dalì surrealism. Fluid shapes with a soft palette of colors made of sand, pink, ink blue and clay. Aand the walkway becomes a harmonious fluctuation of day and night…
FLOW THE LABEL.
Romanticism and a Greek touch with ultra-feminine clepsydra shapes. Soft skirt and clothes in linen and cotton are a reminder of a never ending Summer but the masterpieces of the collection are the blouse. Keep an eye on them as they will become a must have for next Summer.
NAVRO.
The magic world of Navro made of captivating and flawless prints. Girly, glamorous but most of all uber cool. The must, as the previous collections, are the jackets that, thanks to a cut, can be worn as a "bag". This collections really express the joie de vivre and the positivity that are inner features of the designer Olga Navrotska. #unicornsdontcry
ANNA K.
Anna K is one of the most famous worldwide designers under 30. But with this collection Anna is grown and the collection became her reflection. Sensual dresses, chic transparencies and sinuous shapes.
Khomenko + Zirochka.
Creativity, uniqueness and energetic vibes. The woman presented is fierce and bold but at the same time playful and conscious of her power. This femine duo is a great talent that need to be watched as I predict a bright future for them.
Carolina Ogliaro