as I told you several times I'm a perfume addicted and every time I go to France, especially to Grasse, I come back with loads of particular fragrances 😉
And when I discoverd that the new L'Occitane collection was named La Collection de Grasse I was so curious to know more about that!
At the end of April, L'Occitane will officially launch the new line of eau de toilette La Collection de Grasse, which consists of four exclusive fragrances which combined, under Esperluette sign, the most beautiful earth materials.
Magnolia of the Far East, blackberry of the South of France, green tea of Japan, bitter orange of Tunisia, jasmine of Egypt and Grasse, bergamot of Italy, vanilla of Madagascar and rose of France are the main characters of this collection.
The choice of selected excerpts is already a first trip… 
Under Karine Dubreuil genius, the ingredients are always in two, joined by the sign of the Esperluette. Nothing is forbidden, even less daring and the result is an enchanting bomb.
Also the bottle is an ode to the traditional Grasse fragrances ones… 
Sober, cut into a thick transparent glass and t
he elongated neck is closed by a black cap with and Esperluette in relief.
Aren't you curious to discover and smell these new fragrances that should be part of your personal collection?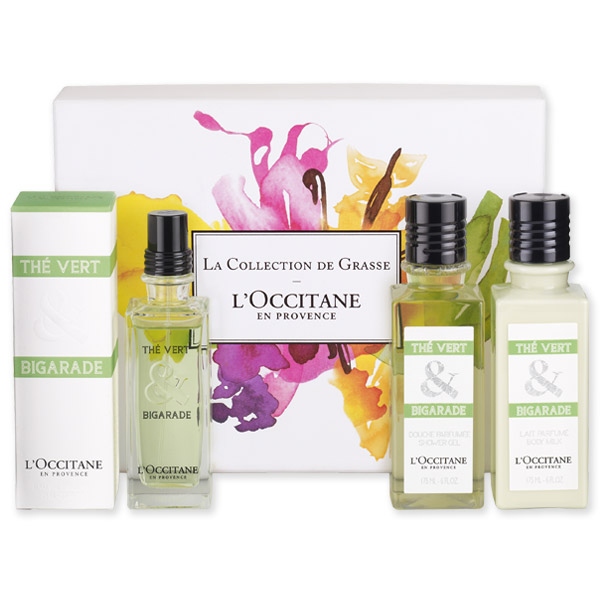 come vi ho detto più volte sono una grande amante dei profumi e ogni volta che vado in Francia, in particolare a Grasse, torno sempre a casa con tantissime e particolari fragranze create dai migliori e più famosi mastri profumieri di Francia 🙂
Quando ho scoperto che la nuova collezione de L'Occitane è stata chiamata La Collection de Grasse mi sono subito incuriosita!
Alla fine di aprile sarà lanciata ufficialmente in tutti i negozi monomarca la nuova linea di eau de toilette Collection de Grasse appunto che consiste di quattro profumi esclusivi che uniscono, sotto il segno 
dell'Esperluette, le materie prime più belle della terra.
Magnolia d'Estremo Oriente, mora del Sud della Francia, tè verde del Giappone, arancia amara di Tunisia, gelsomino di Grasse e d'Egitto, bergamotto d'Italia, vaniglia del Madagascar, narciso di Francia sono i protagonisti indiscussi di queste fragranze. La scelta degli estratti è già un primo viaggio. Sotto il segno e il naso di Karine Dubreuil, gli ingredienti vanno sempre in due, uniti dal segno dell'Esperluette. Nulla è vietato, ancora meno l'audacia e il risultato è una bomba avvolgente.
Anche la bottiglia è un'ode di quelle dell'antica tradizione di Grasse…
Il flacone sobrio, tagliato in uno spesso vetro tras­parente con il collo allungato chiuso da un tappo nero con un'Esperluette in rilievo.
Non siete anche voi curiose di scoprire e sentire questi nuovi profumi che diventeranno sicuramente parte integrante della vostra collezione personale?