Essere parigino non vuol dire esserci nato ma esserci rinato. Sacha Guiltry
Parigi è una delle città più affascinanti del mondo, ogni anno attrae milioni di turisti e curiosi provenienti da ogni parte del globo che accorrono per ammirarne la bellezza e le opere. La foto alla Tour Eiffel, un giro per le vivaci vie del Quartiere Latino, l'immancabile salita verso la meraviglia del Sacre-Coeur o una cena romantica sul Bateau-Mouche… Ogni visitatore tipico della Ville Lumière non può non aver sperimentato il fascino di tutte queste cose nell'arco del suo soggiorno.
E poi c'è lui… Il turista atipico o, per meglio definirlo usando le parole di Guiltry, colui che è nato altrove ma che a Parigi ha scoperto il significato di appartenenza. Ovviamente anche lui ha visitato tutte le mete prima citate, con la differenza di averle fatte ogni volta in una diversa stagione dell'anno.
Perché la Tour Eiffel che svetta come un faro in autunno illuminando il passaggio ai suoi piedi o il Sacre-Coeur sotto un manto di neve sono un'esperienza che lascia brividi e sensazioni uniche.
Il turista che appartiene a Parigi tanto da sentirsene quasi un cittadino è colui che ha la sua biblioteca di fiducia nel circondario di Notre-Dame, quello che non dimentica mai una visita nella sua galleria d'arte del cuore a Montmarte e che una cena nel suo ristorante preferito a Saint-Germaine-des-Prés non la mancherebbe per nulla al mondo.
Parigi, per me, è una seconda casa, forse è il luogo dove mi sento più a casa in assoluto perché lì risiede il mio cuore. Per anni ho sempre raggiunto la Francia in aereo, ma lassù, tra le nuvole, i raggi del sole o la pioggia, mi sono sempre persa uno spettacolo che non ha prezzo… Quello di poter gustare un paesaggio che sa rapirti, che ti fa venire voglia di saltare giù e di fermarti in ogni luogo per giorni, a curiosare, scoprire, immergerti e sporcarti le mani come uno del luogo. La Francia è madre di terre magiche, sensuali e avvolgenti e solo grazie al TGV (il Train à Grande Vitesse) si possono conoscere nuovi posti da esplorare in cui lasciare un pezzo di sé.
A un passo dall'esodo verso le mete vacanziere, il turista a caccia di last-minute o semplicemente di una vacanza alternativa si trova davanti a una moltitudine di scelte… E proprio per questo, da turista atipica parigina, quale sono stata per anni in maniera indiscussa, vi voglio consigliare Parigi. Forse non tutti sapete infatti che Parigi nel mese di agosto si trasforma in una vera e propria capitale della musica. Tutti i generi musicali possibili radunano adulti e giovani a Parigi che, oltre a godere di tutte le meraviglie immortali che la città offre, si possono scatenare al suono di ogni ritmo con gioia e positività.
SNCF (Società Nazionale delle Ferrovie Francesi) la società leader nella mobilità e nella logistica a livello globale che basa la propria storia nel settore ferroviario, e  il portale viaggi Voyages-sncf.com,  propongono di raggiungere Parigi in TGV partendo da Milano, Torino, Vercelli, Novara che, con il loro treno ad alta velocità, permette di arrivare nella capitale nel più rapido tempo possibile.
Personalmente amo in modo particolare viaggiare con il TGV. Posso ammirare il paesaggio con una tazza di caffè au lait fumante, mentre i miei pensieri si perdono sulla prossima meta in cui il treno potrebbe portarmi. Non ho un limite di peso per i miei bagagli, non devo presentarmi ore prima ma poco prima dell'arrivo del treno, mi sento al sicuro con i controlli e al fermo alla Dogana la gendarmerie che sale è gentile, cortese, silenziosa come angeli custodi. Posso muovermi in comodità da centro città a centro città e poi, lasciatemi ripetere per favore, ma il paesaggio che si può ammirare… Lascia senza fiato e nessuna parola è in grado di poterlo descrivere.
E appena arrivati a destinazione, è tempo di muoversi a ritmo di musica!
Dal 1 agosto al 13 settembre, gli amanti della musica di Beethoven, Mozart e Chopin nella rinomata cornice del Parc Floral, nel cuore del Bosco di Vincennes, potranno godere una serie di concerti di musica classica che promettono emozioni senza fine.
Gli appassionati del live jazz potranno presenziare all' American Jazz Festiv'Halles in calendario fino al 19 agosto al Sunset Sunside, dove calcheranno il palco giovani talenti e vecchie glorie del panorama mondiale.
Per chi conserva nel cuore la 3 giorni di Woodstock o per coloro che avrebbero voluto parteciparvi, non potete assolutamente perdervi dal 26 al 28 agosto, nel Parco di Saint-Cloud, il Rock en Seine. Tantissimi gruppi e cantanti di fama internazionale prendono parte a questo evento unico e adrenalinico.
Per prenotare il vostro viaggio su TGV per raggiungere questi festival potete:
Prenotare online sul sito voyages-sncf.com
Nelle agenzie di viaggio affiliate voyages-sncf.eu
Tramite call center al numero 02 40 32 64 35
Tramite cellulare con la App V di voyages-sncf.com
A Torino: nei centri servizi GTT
A Milano: nella Boutique SNCF della stazione Garibaldi
Vi invito inoltre a visitare il sito www-voyages-sncf.com in quanto Parigi non è l'unica meta in cui TGV potrà portarvi e potrebbe essere un interessante spunto per le vostre prossime vacanze, autunnali o invernali o di fine estate.
E quando starete prenotando il vostro viaggio con TGV ricordatevi:
Godetevi la meta apprezzandone il viaggio.
Carolina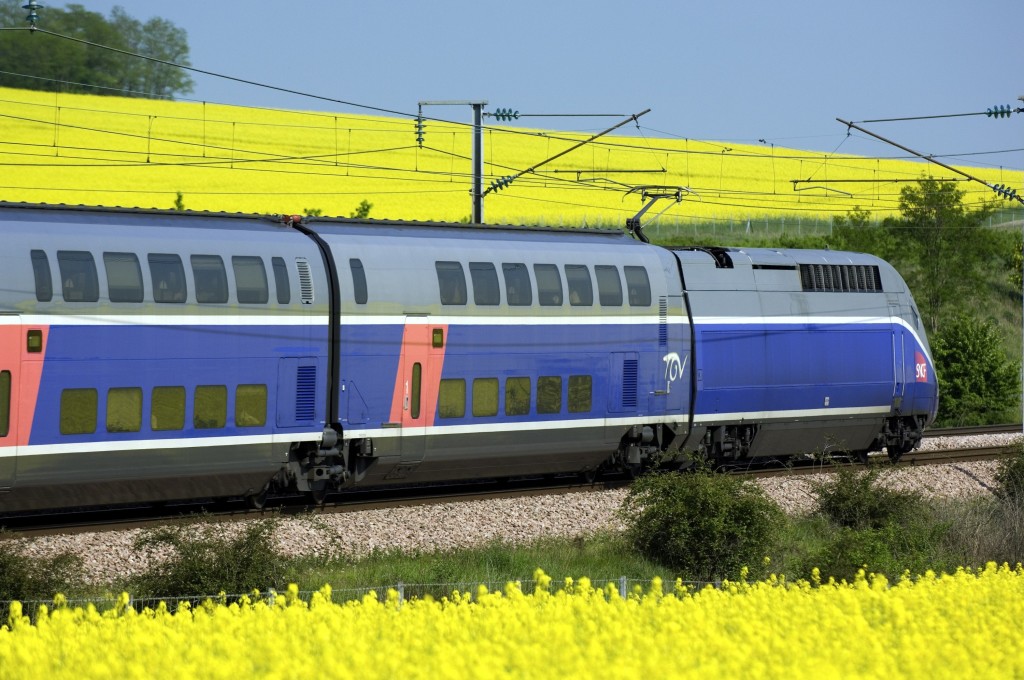 Being Parisian be doesn't mean being born but be reborn. Sacha Guiltry
Paris is one of the most fascinating cities in the world every year attracts millions of tourists and curious people from all over the world who come to admire the beauty and the works. The photo of the Tour Eiffel, a tour through the lively streets of the Latin Quarter, the inevitable climb to the wonder of the Sacre-Coeur or a romantic dinner on the Bateau-Mouche … Each typical visitor of the Ville Lumière can't fail to have experienced the charm of all these things during his stay.
And then there's him … The atypical tourist or to better define with the words of Guiltry, who was born anywhere else but in Paris he discovered the meaning of belonging. Obviously he has visited all the places mentioned above, with the difference of having see them each time in a different season of the year.
Because the Tour Eiffel which stands as a lighthouse illuminating the Fall passage at its feet or the Sacre-Coeur under a mantle of snow is an experience that leaves only thrills and sensations.
The tourist who belongs to Paris much to feel himself almost a citizen is the one who has his library of confidence in the district of Notre-Dame, the one who never forgets a visit in his heart art gallery in Montmartre and a dinner in his favorite restaurant in Saint-Germaine-des-Prés can't be miss for anything in the world.
Paris, for me, is a second home, maybe it's the place where I feel most at home in absolute because there lies my heart. For years I have always reached France by plane, but there, up in the clouds with sun or rain, I always lost a sight that is priceless … To be able to enjoy a landscape that knows how to captivate you, that makes you want to jump down and to stop in each place for days, to browse, discover, dive and get your hands dirty as a local. France is the mother of magical, sensual and enveloping lands, and only thanks to the TGV (Train à Grande Vitesse) you can learn about new places to explore where to leave a piece of themselves.
One step closer to the migration to holiday destinations, the tourist who is hunting for last-minute or simply an alternative holiday is located in front of a multitude of choices … And for this, from a Parisian atypical tourist which I was for years in a so undisputed way, I want to recommend Paris. Did you know in fact that Paris in August is transformed into a unique capital of music? All possible musical genres gather adults and young people in Paris, in addition to enjoy all the immortals wonders that the city offers, you can trigger the sound of each beat with joy and positivity.
SNCF (National French Railways Society) the leading company in the mobility and global logistics which bases its history in the rail sector, and travel site Voyages-sncf.com, aim to reach Paris by TGV, with departure from Milan, Turin, Vercelli, Novara, with their high-speed train, allows you to arrive in the capital as quickly as possible.
Personally I particularly love traveling by TGV. I can admire the view with a cup of steaming cafe au lait, while my thoughts are lost on the next place where the train could take me. I don't have a weight limit for my luggage, I didn't come to the station too early but just some time before the train arrival, I feel safe with the controls and the stop at the Customs the gendarmerie who is getting in the train is kind, polite, quiet as guardian angels. can move in comfort from city center to city center and then, let me repeat that please, but the landscape that can be seen … Leave breathless and no word is able to describe it.
Just arrived at your destination, it is time to move to the music rhythm!
From 1st August to 13rd September, the lovers of the music of Beethoven, Mozart and Chopin in the famous setting of the Parc Floral, in the heart of the Bois de Vincennes, will enjoy a series of classical music concerts that promise endless emotions.
Fans of live jazz can be present at American Jazz Festiv'Halles scheduled until August 19th at the Sunset Sunside, where young talents and old glories will tread the stage.
For those who maintain in their hearts the three days of Woodstock or for those who wanted to participate, you can not miss from 26th to 28th August, in the Park of Saint-Cloud, the Rock en Seine. Many groups and singers of international fame take part in this unique and exciting event.
To book your trip on the TGV to reach these festivals you can:
Book online at voyages-sncf.com
In affiliated travel agencies voyages-sncf.eu
Via call center on 02 40 32 64 35
By phone with the App V voyages-sncf.com
In Turin: services centers GTT
In Milan: Boutique SNCF in Garibaldi Station
I also invite you to visit the site www-voyages-sncf.com because Paris is not the only place where the TGV can take you and it could be an interesting starting point for your next vacation, Fall or Winter or late Summer.
And when you are done with booking your travel with TGV remember:
Enjoy the destination appreciating the journey.
Carolina