There's something magic in discovering a new collection. There's something magic behind it… You can find love, passion, hard work, sleeplessness nights, courage, motivation and strenght.
Giancarlo Petriglia presentation was the triumph of the dream of an Italian guy, a real Artist with A Capital letter, who puts all his creative genius in his unbelivable bags for men and women. His pieces are not only a bag but they are a " construction of bags", they are always in movement and the final shape is not the initial one.
" Nothing is as it seems ".
And that's why the shopping bag has a packet that becomes a clutch or with an handles game becames an hobo, one bag three bags. A matter of spaces, geometries but, most of all, the brain and the creativity of a man who si able to satisfied the need of the modern woman who runs all day for her job and needs a big purse to put inside all her life but who can't come home before the date night that requests a clutch. A palette of colors biting and captivating, so refined but so impressive.
Handmade in Palermo, in Sicilia South of Italy, and inspired by the histrionic personalities of sorrow Anna Piaggi and Diana Vreeland, F/W 2014 2015 is a collection born to be a success, applauded and loved, under the sign of mythologic griffins, logo of the Maison.
A personal thought: Here in Italy we have sometimes a too huge passion for foreign things and designers, but are we sure that this is the right way of thinking? We have so many Italian talents that need our support and need to be appreciated for their undisputed talent and I definetely need to see Petriglia's bag on a catwalk next fashion week. Humble people deserve the best and so he is.
A special Thank You to Alessandro, he was able to transmit me all the vibrant love that Giancarlo put in his pieces and this is a feature that is not common in every one. Be surrounded by the family and pure hearts is the right choice.
Bisous
yours Carolyne O'
Pictures taken with SONY DSC-RX1 by Isabò, dress by Ezra+Tuba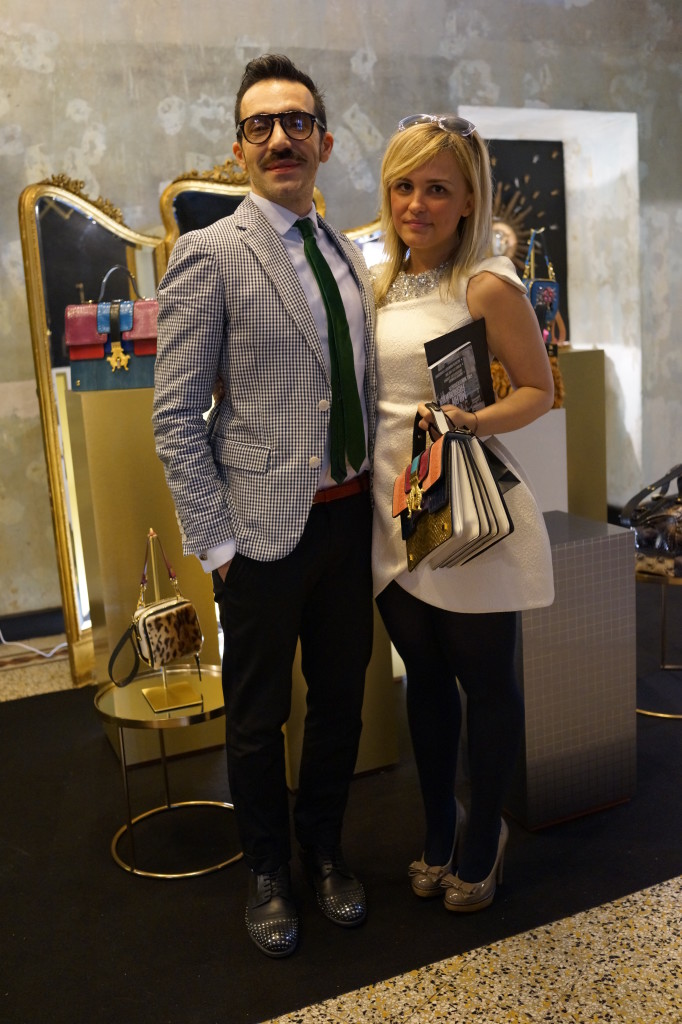 C'è qualcosa di magico nell'ammirare una nuova collezione. C'è qualcosa di magico dietro di essa… Potrete trovare amore, passione, lavoro duro, notti insonni, coraggio, motivazione e forza.
La presentazione di Giancarlo Petriglia è stato il trionfo del sogno di un ragazzo italiano, di un'Artista con la A maiuscola, che ha messo tutto il suo genio creativo nelle sue mozzafiato borse da uomo e da donna. I suoi pezzi non sono solo delle semplici borse ma sono una "costruzione di borse", sempre in movimento e la cui forma finale non è quella di partenza.
" Nulla è come appare ".
Ed è per questo che la borsa shopping presenta una busta che diventa a suo volta una clutch o che, grazie a un gioco di manici, diventa una hobo, una borsa tre borse. Una questione di spazi, geometrie ma, soprattutto, del cervello e della creatività di un uomo che è stato in grado si soddisfare l'esigenza e il bisogno della donna moderna che corre tutto il giorno per lavoro e che necessita di una borsa capiente per infilarci dentro tutta la sua vita ma che non ha tempo di tornare a casa prima dell'appuntamento serale che richiede una clutch. Vengono accompagnate da una paletti di colori mordenti e accattivanti, così delicati ma così eccezionali.
Fatte a mano a Palermo, in Sicilia, e ispirate dalle istrioniche personalità della compianta Anna Paggi e di Diana Vreeland, la collezione A7I 2014 2015 è nata per il successo, per essere osannata e amata, sotto il segno dei mitologici grifoni, logo della Maison.
Un pensiero personale: qui in Italia abbiamo a volte una passione troppo sfrenata per i prodotti e i designers esteri, ma siamo certi che sia il modo migliore di agire? Abbiamo così tanti designer talentuosi che hanno bisogno del nostro supporto, di persone che credano in loro, che li valorizzino e li apprezzino per il loro indiscusso talento e io ho davvero bisogno di vedere le borse di Petriglia in una sfilata la prossima settimana della moda. Le persone umili si meritano il meglio e così lui.
Un Grazie speciale ad Alessandro, che è stato in grado di trasmettermi tutto l'amore vibrante che Giancarlo instilla nelle sue opere d'arte ed è una caratteristica non comune a tutti. Circondarsi della famiglia e di cuori sinceri è sempre la scelta migliore.
Bisous
la vostra Carolyne O'