Delicate, moderne with an eternal allure of chic is the new Coccinelle Fall/Winter collection.
Very soft shapes matched with more geometric ones are the main character of the F/W, that sees a predominance of light colors such as powder, cream, silver and skin. The iconic black is a cornerstone of the collection and it's used not only alone but also combined with orange, peacock blue and must.
Celeste, IT bag of the Maison, will find a brand new look for the colder seasons with a sophisticated horsy print, and also the messanger one will revisit the old concept to elaborate a new idea of uberflat and small bag. The shopping bag is very easy-to-wear, casual and comfortable never forgetting the elegant side, the doctor bag abandon the strictness and let enter fresh vertical and horizontal shapes, the eternal clutch become the perfect ally for both day and night and cool backpack in gold leather is a must-have accessory for the urban and cosmopolitan personalities.
I really like this new collection because puts a great focus on the materials, exquisite and valuable, and on shapes. A collection perfect for a woman who wants to be glamour without loosing her comfort and who loves carrying with her a bag that is a manifesto of herself. A bag that says " I'm stylish, self-confident and I have all that I need to fulfill my dreams… Me and my strenght."
Bisous
yours Carolyne O'
Pictures taken with SONY DSC-RX1 by Isabò and I was wearing a dreamy dress by Ezra+Tuba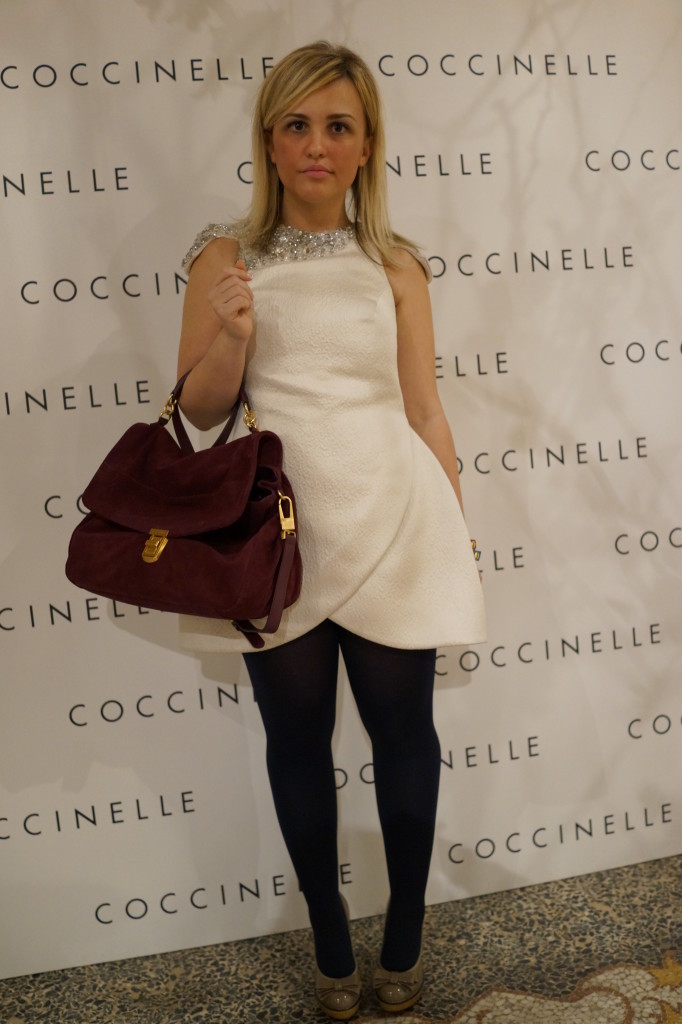 Delicata, moderna e con un eterno allure di chic è la collezione Autunno/Inverno firmata da Coccinelle.
Forme morbide e suadenti accompagnate da altre più geometriche sono le protagoniste indiscusse di questa collezione, che vede un predominio di colori chiari quali polvere, pelle, argento e panna. L'iconico nero è un caposaldo di ogni collezione ed è usato non solo in monocromo ma anche abbinato all'arancio, al peacock blu e al mosto.
Celeste, IT bag della Maison, trova un nuovo look per le stagioni più fredde grazie alla stampa cavallino e anche la messanger viene completamente rivisitata dal concetto desueto e lascia spazio a una nuova idea di borsa molto flat e piccola. La shopping bag divent easy-to-wear, casual e confortevole senza mai dimenticare il suo lato elegante, la doctor bag abbandona la sua rigorosità e fa entrare forme verticali e orizzontali., le clutch senza tempo diventano le perfette alleate sia per il giorno che per la notte e il redivivo zaino in pelle dorata diventa un must per le personalità urban e cosmopolite.
Mi piace molto questa nuova collezione perchè punta l'occhio sui materiali, pregiati e di valore, e sulle forme. Una collezione perfetta per una donna che vuole essere glamour senza perdere il suo comfort e che ama portare con sé una borsa che è un manifesto di sé stessa. Una borsa che dice "Sono stilosa, sicura di me e ho tutto quello che mi serve per realizzare il mio sogno… Me stessa e la mia forza."
Bisous
la vostra Carolyne O'