The days in this month of April are getting longer, giving us a few more hours of sun and warmth and take us to the Summer, like old dear friends.
It's time of the dreaded change the wardrobe where from the warm and dark coats, they left space to froufrou dresses and colored and light garments. Bossy is the desire of bright and vibrant tones, alive and energetic and it's perfect treat yourself with few pieces in the wardrobe that have a strong visual impact and emotional on the spirit. So Chiara Bellini, luxury brand of the Italian scene, has created a collection glamorous and attentive to the latest trends, with an eye to practicality.
Brand of the excellence of the Made in Italy, Chiara Bellini, after a first test of sales in the Russian market in 2013, debuted this year with the Spring / Summer collection, that is very accurate and with a so fine taste. The main material is PVC which is used both in footwear that in the accessories.
The shoes of the Spring / Summer 2015 by Chiara Bellini are declined in a multitude of models, from the boot rider to the beatle boots and heavy-duty boots, the flats and the thong sandals. In all the models of shoes, PVC can be combined with other materials such as leather, metal or cork. Combinations of different materials are also found in the trunk bags and in Rock'n'Ball bags.
Special attention has to focus on PVC material often protagonist of thorny issues related to ethics and respect for the environment. Chiara Bellini is careful to these aspects and in fact she uses for her products a PVC that comply with R.E.A.C.H., an integrated system of registration created by the European Union to improve the protection of human health and the environment, which is the registration, evaluation, authorization and restriction of chemicals used and therefore presents no phthalates. The PVC, among other things, is a material from the many advantages, including the maximum water resistance and it is not a driver of electricity.
Shoes and accessories by Chiara Bellini welcome within itself all styles, from rock and strong mood to more charming and elegant without forgetting the ones who love classic.
A young and luxury brand, enterprising but trendy, created by a woman for women that releases energy and vitamin components through shoes and accessories destined to become iconic.
Carolina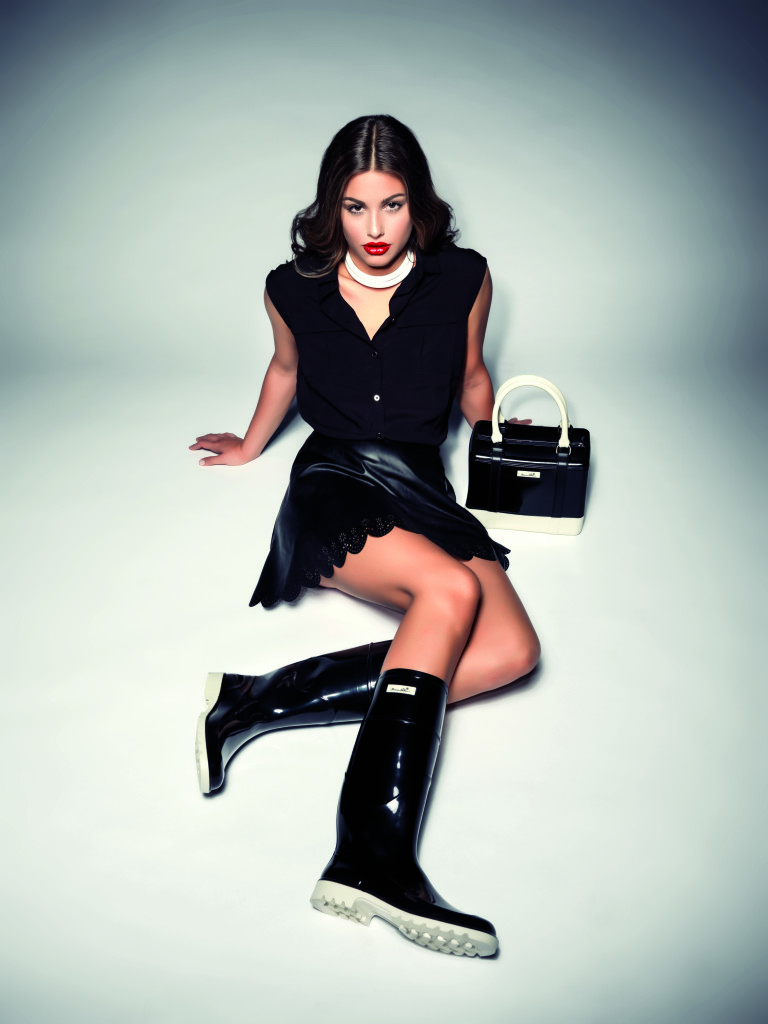 Le giornate in questo mese di aprile si allungano, regalandoci qualche ora di sole e di tepore in più e ci accompagnano verso l'estate come delle care vecchie amiche.
E' tempo del temuto cambio dell'armadio dove, ai caldi e scuri cappotti, si lascia spazio ad abitini froufrou e a capi colorati e leggeri. Prepotente è la voglia di toni accesi e vibranti, vivi ed energetici e di concedersi qualche pezzo all'interno del guardaroba che sia di forte impatto visivo ed emotivo sullo spirito. E così Chiara Bellini, brand di lusso del panorama italiano, porta sulle scene una collezione glamour e attenta agli ultimi trend, con un occhio particolare alla praticità.
Marchio dell'eccellenza Made in Italy, Chiara Bellini, dopo un primo test di vendita nel mercato russo nel 2013, debutta quest'anno con una collezione Spring/Summer molto curata e dal sapore pregiato. Il materiale di punta è il PVC che viene impiegato sia nelle calzature che negli accessori.
Le scarpe della collezione Primavera/Estate 2015 di Chiara Bellini si declinano in una moltitudine di modelli, dallo stivale cavallerizzo, al biker, allo stivaletto beatle e anfibio, alle ballerine, ai sandali infradito. In tutti i modelli di scarpe il PVC può essere abbinato ad altri materiali come pelle, metallo o sughero. Accostamenti di materiali diversi si ritrovano anche nelle borse a bauletto e nelle borse a sfera Rock'n'Ball.
Particolare attenzione è da puntare sul PVC, materiale spesso protagonista di spinose questioni legate all'etica e al rispetto ambientale. Chiara Bellini è attenta a questi aspetti infatti usa per i suoi prodotti PVC che rispetta le norme R.E.A.C.H., un sistema integrato di registrazione creato dall'Unione Europea per migliorare la protezione della salute umana e dell'ambiente, che consiste nella registrazione, valutazione, autorizzazione e restrizione delle sostanze chimiche utilizzate e che quindi non presenta ftalati. Il PVC, tra l'altro, è un materiale dai molteplici pregi, tra cui la massima impermeabilità e resistenza e non è un conducente di elettricità.
Le scarpe e gli accessori firmati Chiara Bellini accolgono entro di sè tutti gli stili, dal mood più rock e strong a quello più vezzoso e raffinato senza dimenticare chi fa della classicità la sua colonna portante.
Un marchio giovane e di lusso, intraprendente ma trendy, creato da una donna per delle donne che sprigiona energia e componenti vitaminiche tramite scarpe e accessori destinati a diventare iconici.
Carolina